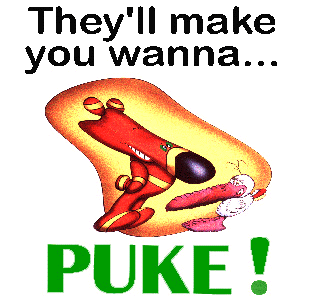 Okay! Maybe not puke but things could really get saccharin if RINGER had his way all the time. We can give great thanks to DINGER D. BELL, Ringer's pessimistic side-kick, for helping neutralize all that sweetness.
RINGER is a most unlikely super hero. He's small. He's way too cute. He doesn't appear to have a single super muscle in his whole tiny body. His colors are definitely not super hero colors. He's always up and optimistic. He doesn't have a clue about quitting. He can't even conceive the "I quit!!!" idea.
I've heard he spends way too much time helping children and far too little time with important adults and big shots. He never learned to kiss up. He'll spend fifteen minutes advising the President on some big-deal decision and a whole day helping a little kid find a lost dog or picking up all the beads from a broken necklace. Ringer is sort of like Superman's Clark Kent only he's Clark Kent all the time ... except in an emergency.
RINGER'S power is in the yellow rings that encircle the many different parts of his body. They look like part of his fur but he's able to whip them off so fast that it's almost impossible to see him do it.